Camping is Better Together . . .
Waterfront Group Camping in San Diego
We've added 147 new campsites which are perfect to host camping groups! Bring your group camping along the water in the heart of San Diego's Mission Bay. Let your wagonmaster know about our resort or form your own camping group.  
Group Camping – Great Way to Bond and Have Fun
Camping offers a terrific way to escape the hustle and bustle of everyday life and enjoy the peace and quiet of the coast. It can be even more fun when you do it with a group of friends or family.
There are many benefits to camping in groups. Here are just a few:
It's more fun. When you're camping with a group, you can share the experience with people you care about. You can go on hikes, swim in lakes, roast marshmallows over the campfire, and tell stories late into the night.
It's more affordable. Mission Bay RV Resort offers group camping sites as low as $50/night.  You need to commit to 10 or more campsite to be considered a group.  We allow both RV and tent camping in the North section.
It's Your Group. You get to pick your neighbors.  We'll assign you a group of campsites, and your wagonmaster (lead contact) gets to assign the campsites.  Note to self:  Be nice to your wagonmaster!
It's easier. When you're with a group, you can divide and conquer the tasks of setting up camp, cooking meals, and cleaning up. You can plan pot luck dinners, game nights and more. This can make the camping experience less stressful and more enjoyable.
It's more rewarding. When you camp with a group, you get to create memories that will last a lifetime. You'll bond with your friends and family, and you'll all come away from the experience with a renewed appreciation for the outdoors and camping along the coast.
If you like camping with friends, we encourage you to consider creating a camping group. It's a great way to have fun, save money, and make memories that will last a lifetime. 
How to Create a Camping Group
Here are the steps to create your own camping group and be able to take advantage of group discounts:
Give your group a name
Designate a leader or primary contact to book campsites.  This person will be your "Wagonmaster".
Find a resort or campground and decide on dates.  Make sure they offer group rates.
Check availability and commit to 10 or more campsites.
Get your friends and family to join you camping.  At most resorts, the wagonmaster will be responsible for collecting payments from your group members and paying for the campsites.
Have fun!
Tips for Group Camping
Choose a campground or RV resort that can accommodate your group size. With Mission Bay RV Resort North, our large campsites make it easy for groups to congregate. We can handle groups of up to 147 sites depending on availability.
If you have both tent and RV campers in your group, make sure the campground/resort accepts both.  
Assign someone to act as the group contact and organizer.  Most campgrounds/resorts will want to deal with one person called the wagonmaster. 
Plan group gatherings such as pot luck meals, sports and activities. Leave time for relaxing.
Make a list of all the gear you'll need and divide it up among the group.  You might want to bring various games and water toys as you'll be camping at the world's largest aquatic park.
Decide who will be responsible for what, such as setting up group outings, planning meals, and hosting special activities.
For friends and family without camping gear or RVs, rentals may be available.  
Set some ground rules, such as respecting each other's space and quiet hours.
Request time to play and gather at Mission Bay RV's clubhouse.  
With a little planning, camping in groups can be a fun and rewarding experience for everyone involved. So get out there and start planning your next camping trip as a group!
Group reservations can be made by calling 858-270-4300.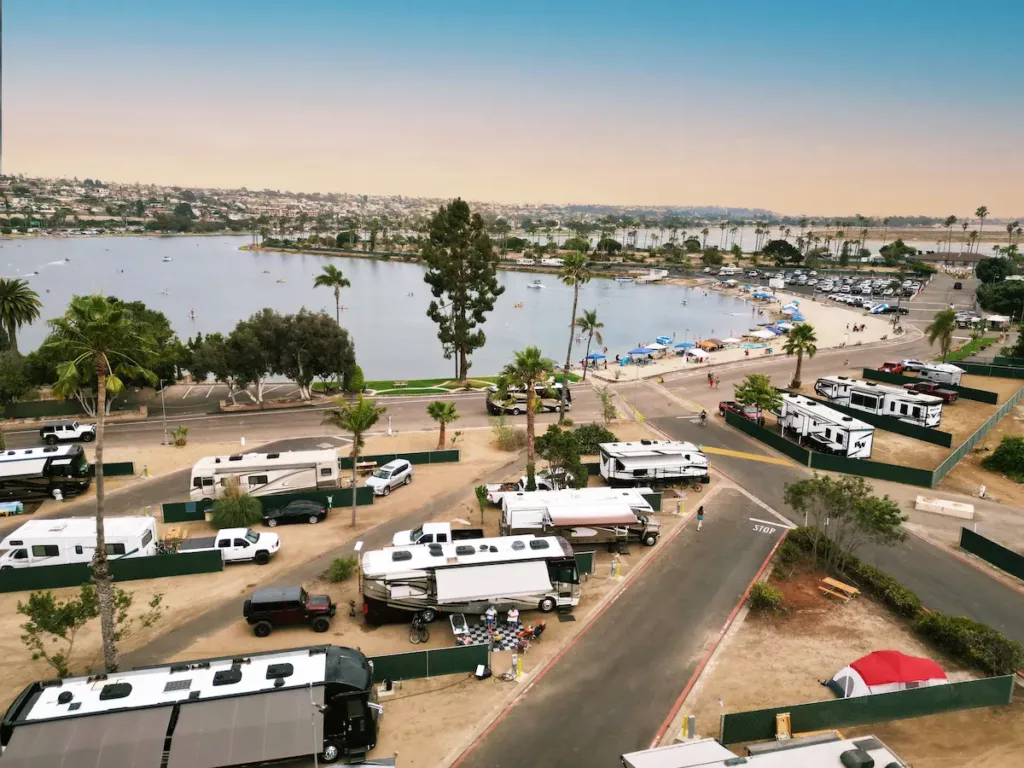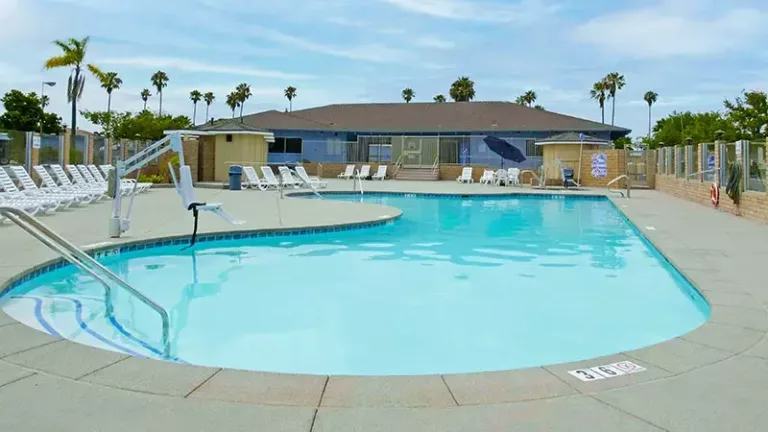 Swimming Pool & Spa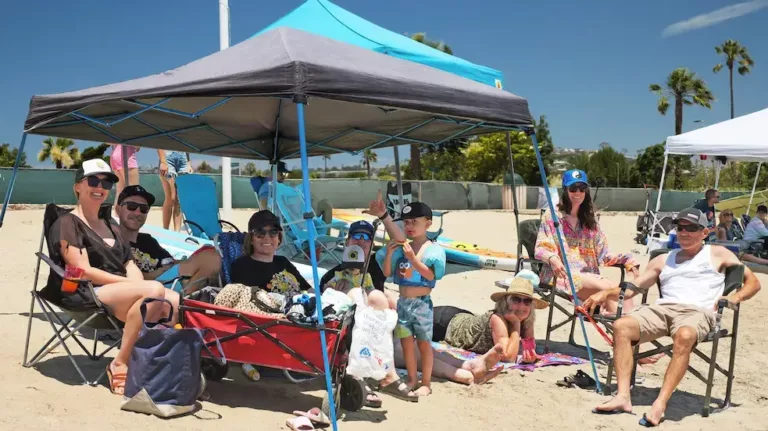 Public Beach at De Anza Cove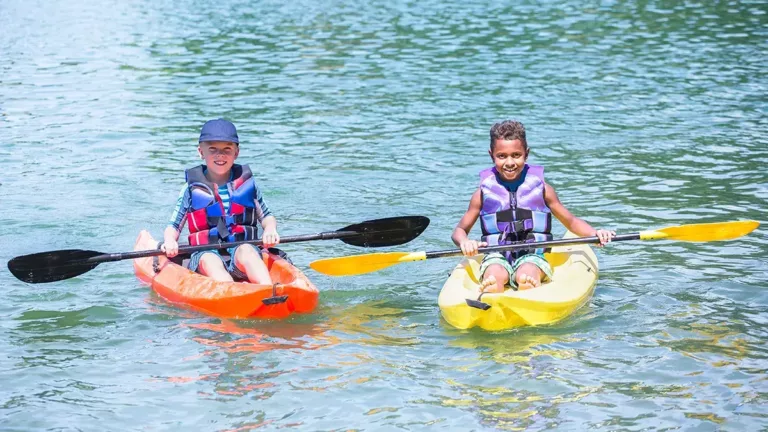 Calm Cove for Watersports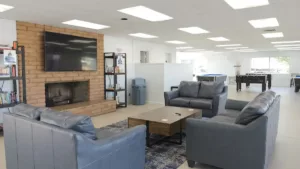 Clubhouse for Gatherings
Advantages of Mission Bay RV Resort North
We just added 147 new campsites in July 2023. Advantage of bringing your camping group here include:
Large Sites – These sites are former mobile home sites so most are quite large. 
Great Availability – since these campsites are new, we have plenty of sites available for group bookings.
Coastal Camping – the resort is located along the shores of Mission Bay, the nation's largest aquatic park.
Natural Getaway – Even though the location is in the along the coast of San Diego, the rustic sites let you feel like you are camping with nature.
Full Hookups for both RV and Tent campsites.
Fast Wifi for using the internet and streaming.
Great gathering spots for your group:  Clubhouse, Public Beach, and Large Campsites.
Amenities – Pool, Hot Tub, and Clubhouse, Bathrooms with Showers, Laundry, Fire Pit Rentals, and Front Office.
Recreation galore including public beach, public golf course across the street, De Anza Cove Park and 14 miles of hiking and biking trails. Bring watersports toys. Public boat ramp nearby.
Our Group Camping specialist is available Monday – Friday, 9 am – 5 pm PST to answer any questions you may have about booking a camping group.  We are here to help.  
Plan your Group camping trip today.  Call 848-270-4300.
Group Camping Rates
Mission Bay North - Off Season Only*
Midweek Rate - Sunday - Thursday.

*Off-Season = Post Labor Day - Pre-Memorial Weekend. **Holidays excluded.

$70 Night - Weekend Rate - Friday & Saturday Off Season