About Mission Bay's Family Friendly RV Resort
Learn about Mission Bay RV Resort in San Diego, located in the heart of Mission Bay, the world's largest aquatic park, just east of Crown Point and occupy 40 prime acres with over 500 sites. One side of the resort faces De Anza cove with calm waters and a long beach. Another side of the family friendly resort offers waterfront camping along Mission Bay. Mission Bay RV Resort is one of San Diego's top favorite camping destinations and is opened all year long. Our guests return year after year to enjoy our outstanding location, amenities, and fantastic employees. Now managed by Campland, Mission Bay RV Resort's mission is satisfying our guests through hospitality and fun memories and adventures! Only our team members can give our guests the caring and wonderful experiences that bring them back again and again. Our family friendly RV resort in San Diego is a wonderful, family-friend resort for campers of all ages.
The resort offers easy access from I-5 and to all of San Diego's local attractions.
Address:
Mission Bay RV Resort
2727 De Anza Road
San Diego, CA 92109
Phone: 1-877-219-6900 or 858-270-4300
Email: reservations@www.missionbayrvresort.com
Directions to Mission Bay RV Resort
From I-5 North and I-5 South
Take the Clairemont Dr exit 22
Turn left at Clairemont Dr
Turn right at E Mission Bay Dr
Continue on N Mission Bay Dr
Turn left at De Anza Rd
You will see Mission Bay RV Resort on the right… Welcome!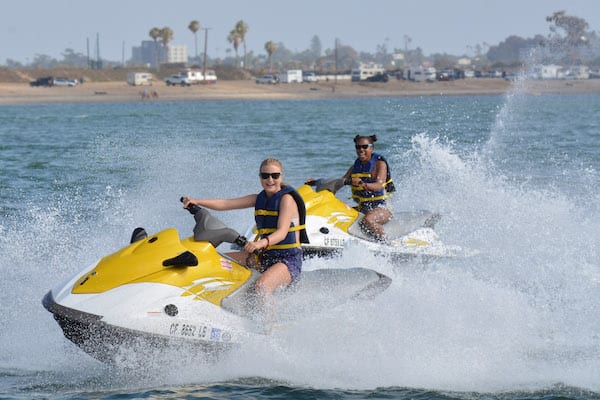 Mission Bay RV Resort in San Diego, California has offered affordable waterfront camping for over 40 years. In 2019, Terra Vista Management, that manages Campland on the Bay, was asked to also manage Mission Bay's family-friend RV resort.  On June 24, the City Council approved the De Anza Cleanup and Improvement Project. The project includes:
A lease extension for Campland on the Bay
A new lease for the De Anza Cove property that includes Mission Bay RV Resort
De Anza Cleanup and Improvement Project which includes removing 166 abandoned mobile homes and rehabilitating the swimming pool and clubhouse
The Mission Bay RV Resort team has been giving the property some much needed and long-awaited TLC.  "We've been busy repairing the utility system, addressing safety issues, and improving the resort's amenities," said Jacob Gelfand, VP of Operations for Campland on the Bay and Mission Bay RV Resort.
The utility systems needed repairs, including:
Gas line repairs
Sewer main cleanouts
Irrigation upgrades to avoid waste
Repair of utility pedestals
Watermain repairs
The resort needed many safety enhancements and interventions, including:
Parking lot repairs and lighting
Pest and insect control
Beach sinkhole repaired
Trimmed all trees in RV park
Installed over 1500' of privacy mesh along MH zones
Safely secured collapsing temporary fencing
Repaired laundry, pavilion and office roofs
Ongoing pavement traffic signage repainting
Removal of garbage, debris and potential hazards from storage areas (lightbulbs, paints, oils, etc.)
The team has also been very busy enhancing the amenities, such as:
All Mission Bay RV Resort guests provided access to Campland facilities, amenities and entertainment, in addition to activities hosted onsite at MBRV
Renovation and reopening of RV laundry facility
Dry storage spaces made available
Unnecessary fencing removed to activate formerly inaccessible RV sites
Men's restroom in office building retrofitted as unisex
Exhaust fans installed in RV restrooms for improved ventilation and circulation
Recreation Center refurbished
Mission Bay RV Resort has also received some noticeable aesthetic enhancements, including:
Landscaping improvements throughout the property, including new landscaping features
Repainted entrance marquee sign
We hopes guests appreciate the updates and improvements at Mission Bay RV Resort.  And we look forward to removing the nearby abandoned mobile homes in the future.